Andrea
tagged me with this: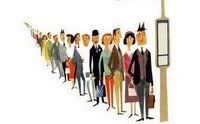 Have you in your childhood been to a girl scout or summer camp and one of the games that you played is creating the longest human line? Let's relive the moment of summer camp and let's try to make the longest human line...
Rule: Copy the entire list and add your name below the person who tagged you. Then tag at least 5 friends (But you can tag as many as you like) and visit their blog to let them know you tagged them.
Abie - Journey to Life
Abie - MyPlanetPurple
Farah - changing lanes
Andrea
Bela
Kaptyurd by Howell
Aggie
Apols
Apple
Thea
Jacqui
Jane
Jody
Joy
Kelly
Mich
Peachy
Vien
Nick
Heidi
and now I'm tagging
Mhay
,
Toni
,
Vivek
,
Kathy
and
Raquel